Simplify Operations to Focus on Important Tasks
Bespoke software has eliminated many organizational inefficiencies at the Elanek network of preschools. Now only the misbehaving toddlers create headaches.
Question: How do you organize a growing network of nursery schools and all of its back-office and customer-facing requirements?
Answer: Develop full-company digitalization with an Enterprise Resource Planning (ERP) app that takes care of documentation for students, contracts, capacity planning, reporting, HR for employees, and much more.
Most mid-sized businesses have similar issues with efficient operations. All of these get magnified when you add snot-nosed toddlers who are fussy eaters and don't want to take naps and often cry for mommy.
Elanek is a network of nursery-school franchises with more than 1,000 (sometimes angel-like, often screaming and poopy) kids and more than 200 (patient and supportive) employees (i.e., day-time moms). It needed to organize its in-house operations in order to better handle legal requirements and make the days more enjoyable.
These are the pain points that would continually cause headaches. (Do versions of these sound familiar?):
- Official paperwork needs to be maintained for each child but it got overwhelming, and just one missing piece of data was a problem.
- It was generally effective enough to communicate scheduled events with a note on the bulletin board. However, making last-minute changes, like when teachers were ill, was a headache that annoyed the parents.
- Approvals were done by email, one email at a time.
- Excel spreadsheets were constantly being sent back and forth between employees, and often had the formatting thrown off.
- At times, minor contracts expired, deadlines were missed, and the seats at a kid-friendly movie were already booked.
- Locating records and parsing data was sometimes difficult.
- And, for the teachers themselves, the general Human Resources processes, like scheduling time off and sick time for employees, was inconsistent.
Basically: teachers don't have time to sit in front of the computer. Rather, they would appreciate a smartphone app so that they could cradle a crying baby on one hip and respond to an email request at the same time.
Screaming and Crying Kids Cause Enough Headaches
Bespoke software was the answer. Alfaveo, a bespoke software developer, and Jetveo, a low-code programming platform, were the providers.
The solution started with an on-site meeting to delve into the pain points and map out a basic solution. Development was fast: the prototype was done in a couple of hours, then subsequent iterations (each at half-hour intervals) enabled Elanek to make corrections and adjustments that were programmed on the fly, thus eliminating costly and time-consuming analyses.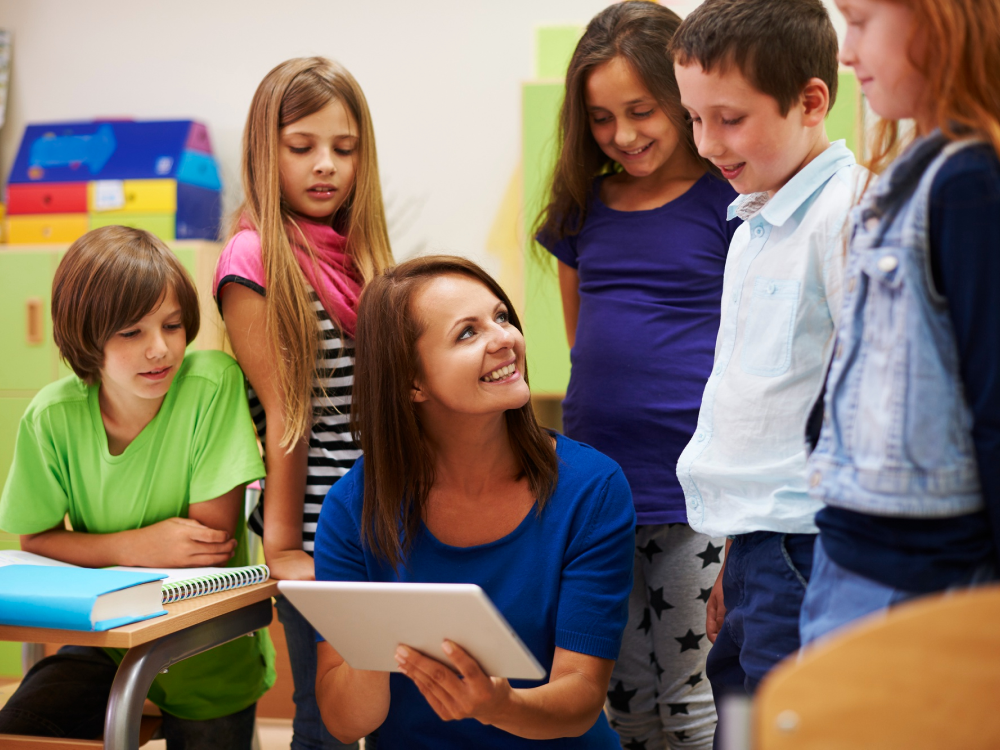 In the end, an overall Enterprise Resource Planning module was created to provide new workflows and bespoke solutions:
- Databases, with built-in guidelines to follow legal requirements, were created for documentation. Agile customization allows for adjustments according to new legislation, like changes to rules for meal vouchers. Physical paperwork was largely removed and the information put online. Multiple employees can access the documents at the same time, without formatting issues.
- Notifications were automated for communicating with parents about scheduling and upcoming events. (A big hit with the parents.)
- Smooth approval workflows were established for purchasing and contracts. Notifications were set to provide warnings about schedule deadlines (e.g., fire extinguishers need to be replaced, certification needs to be renewed).
- Detailed reports were established. (e.g., salaries, locations, student statistics).
- Student records were put online and made searchable.
- A comprehensive HR system was created, including simple-to-use payroll and the ability to request holidays and last-minute sick leave.
- And, importantly, the entire system can be scaled up to handle the expected growth.
The development time? About 60 hours.
Does your business struggle with workflow difficulties and integration trouble? Even without a classroom full of toddlers, that is a problem. Consider bespoke software to streamline the flow of information and tasks through your workspaces.