Jetveo: Accelerate Your Digital Transformation
Low-code programming provides an efficient way to quickly upgrade businesses to take advantage of the latest that technology has to offer.
Technology is ubiquitous in this day and age. Yet, there are still companies that send paper around the office to get signatures for approvals. There are still employees that write the same email text over and over again. And there are still HR departments that waste the first day of an employee's paid employment with paperwork and training that could have been done from home. All of these resource-heavy tasks can be streamlined by taking advantage of existing technology.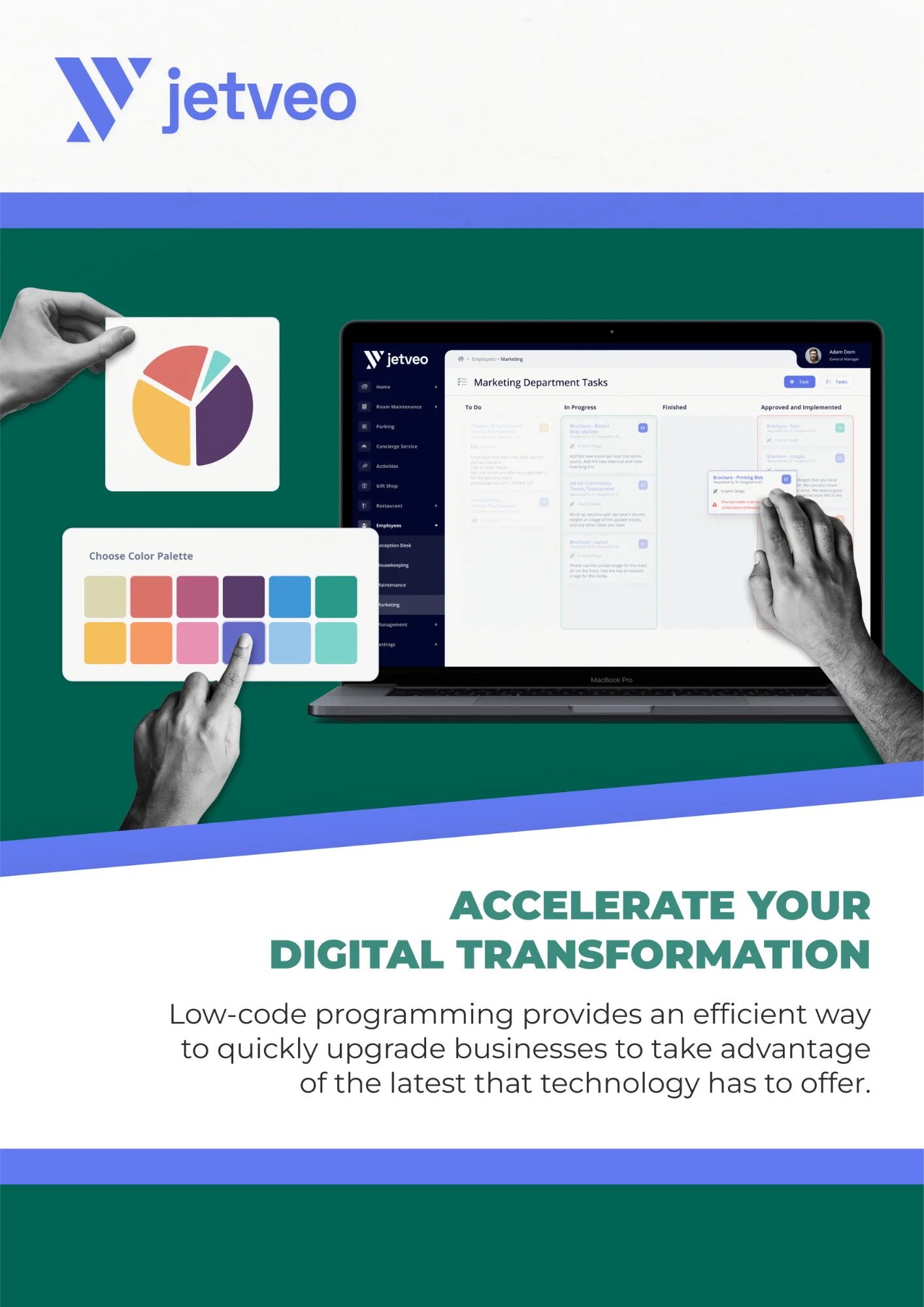 A new programming system has emerged over the past few years that enables developers to create bespoke software more quickly, more efficiently, and more affordably.
It is called low-code programming.
Click here to get a free copy of "Accelerate your Digital Transformation" to learn more about it.
In a nutshell, low-code programming provides the building blocks for the foundation of an app, then allows for C# coding to customize the business logic for specific cases.
Low-code programming is the best of the main programming models. It has the flexibility and power of classic programming and the simplicity and efficiency of no-code, formulaic programming. It can be used in a wide variety of ways to digitalize the daily operations of businesses so that management can focus on more important topics.
This balance of power and flexibility is why low-code programming is considered, by many, to be the style of development that will be most popular in the near future. According to Statistica, the international statistics company, the global market for low-code programming, which was around $10 billion in 2019, will be around $65 billion by 2027. It's expected to triple to $187 billion by 2030.
The main reasons are that low-code programming is fast, efficient, and affordable, and it offers a world of possibilities.
Do you have a specific issue that you would like to smooth out? Are there gaps in your communication or inconsistencies in your task workflows? Would you like to digitalize more paperwork? Consult with Jetveo about bespoke applications that can be created specifically for your business and your specific requirements.
Or, if you are a developer and want to get your hands dirty, establish a free account with just your name and email address. Go to Jetveo.io, click Jetveo Platform in the upper right. Click here to visit the Development Portal for more specific information about the Jetveo Platform and App Builder.